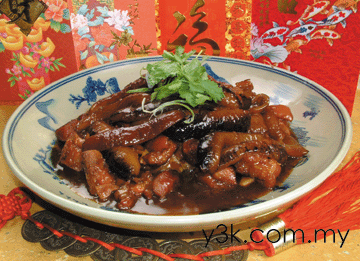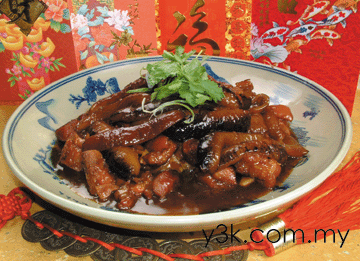 TREASURE ISLAND's GLORY
Sea cucumbers are virtually tasteless on its own. It absorbs the flavour from stock of the dishes. It can withstand long terms of cooking like braising, double-boiling, simmering or it can be stir-fried with sauces ranging from savoury, sweet, sourish or spicy.
Ingredients
1/2

portion

pig's fore-trotter

(chop into pieces)

1/2

rice bowl

oil

600

g

pre-soaked sea cucumbers

2

whole bulbs

garlic

(leave skins on)

1

tbsp

A little minced garlic

1

litre

water

2

tbsp

Chinese cooking wine

2

tbsp

soy sauce

1

tsp

salt

pepper
Instructions
Parboil pig's trotter pieces for five minutes. This is to remove the oil and scums. Dish up and drain dry.

In luke warm oil, stir-fry sea cucumber pieces. Remove and drain away excess oil.

Heat clean wok, add in 1/2 rice bowl oil and caramel the sugar till a light golden colour is achieved. Do this process on a very low heat. When the sugar solution is bubbly, put in no.(1). Stir well over a high heat.

Add in minced garlic, seasoning and water. Simmer over medium heat for 1 hour.

Add in the whole garlic bulbs and sea cucumbers. Top with extra water if necessary. After 1/2 hour, check ingredients for tenderness and gravy should be rather thick in consistency.

Finally, drizzle in the Chinese cooking wine and dish up contents.
Notes
Sea cucumbers, disregarding sizes and colours, possess the same nutrients. They contain loads of protein and are low in fats and cholesterol. Being nicknamed as Ginseng of the sea, it is believed to have some curative remedies. The jelly-like fibrous, spongy substance are considered to be good for hypertension and is an aphrodisiac in the Chinese health benefit language.
A few points are printed here to help you to select a prime buy. The sea cucumbers must be really dried, knock it against a table's surface. Listen to the strong sound, the heavier the echo, the better it is. Well dried sea cucumbers have a good storage life. The spiky chee sum can easily be recognised. Teat fish or chee poh sum is sturdy built and has two little spikes at the sides. Some are not too obvious and at times it can be mistaken for another variety, which bears a close resemblence.
Sand fish has a rounder appearance and has horizontal lines across. This is the most common type for household purchases. It needs a trained eye to choose the varieties and a non-unscrupulous dealer to help you.
Source: http://y3kfreerecipes.blogspot.com/2009/01/sea-cucumbers.html